Representative Projects
Intelligent Generation optimizes energy economics for commercial, industrial, and institutional customers.
"Solar is the wave of the future…doing the right thing and having the savings to make it worthwhile
business-wise – it became a no-brainer for us."&nbsp&nbsp&nbsp-Harvey Cohen, President, MAGID Glove & Safety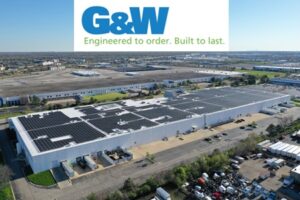 Type: Manufacturing
Size: 2.4 MW solar PV, 2 MW Flow battery storage, 1 MW flywheel, 2 MW generator
In 2022, G&W Electric commissioned a large industrial microgrid at its headquarter and manufacturing site in Bolingbrook, IL. The microgrid is optimized and monetized by Intelligent Generation. IG deploys its POWR:Suite against its Earn, Save, Protect strategy with bill savings, resource revenue generation in the PJM wholesale market, and seamless backup to operations in the event of an outage. Click to take a tour of the microgrid.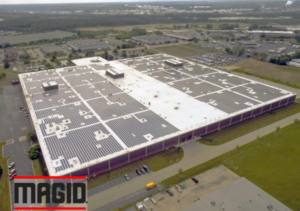 Type: Manufacturing
Size: 3.5 MW solar PV, 2 MW storage
In 2019, MAGID built a 3.5 MW rooftop solar system, the largest of its kind in Illinois. In the course of the project, MAGID decided to add two batteries from TESLA Energy, managed by Intelligent Generation's POWR:Suite engine to enable microgrid backup for the site and accelerate payback through bill reduction strategies and participation in the wholesale market.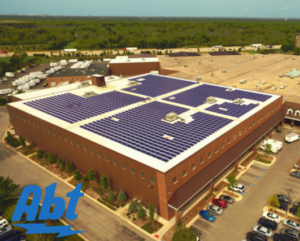 Type: Retail Microgrid
Size: 508 kW solar PV, 500 kW storage
In 2017 Intelligent Generation signed a long-term agreement with Chicagoland's premier retailer Abt Electronics to maximize bill reductions and wholesale market revenues from energy management services.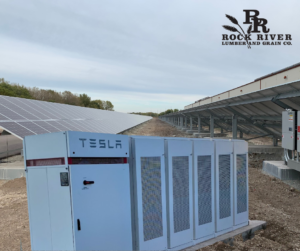 Rock River Lumber & Grain
Type: Agriculture
Size: 0.6 MW solar PV, 500 kW storage
Rock River Lumber & Grain has opted in for a greener, more profitable future. As a key economic engine of Whiteside County for over 80 years, Rock River operates many grain storage silo and dryer facilities. These have a very uneven usage of electrical power along the season. Rock River decided to green its operations and manage its loads while at the same time generating cash revenue from their renewable investment. A combination of solar and energy storage was selected and deployed, managed for optimum value generation by Intelligent Generation.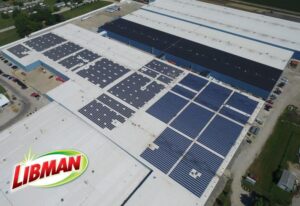 Type: Manufacturing
Size: 1.8 MW solar PV, 2 MW storage
Libman uses nearly 100 plastic injection molding machines; their operation and control systems are highly susceptible to power supply interruptions. Frequent power disturbances, costing Libman several hundreds of thousand dollars of lost revenue each year, motivated Libman to seek power resiliency solutions without the high cost and low efficiency of traditional UPS solutions. In over a year of technical and regulatory work, an innovative solution was selected that deployed 2 MW of energy storage systems in a highly novel industrial configuration, coupled with a 1.8 MW solar system.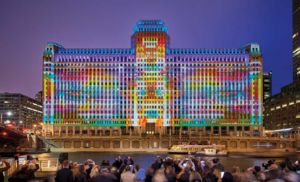 Type: Commercial Real Estate
Size: 280 kWh battery
In an agreement with theMART, owners of Chicago's historic landmark building the Merchandise Mart, Intelligent Generation has taken over the dispatch and economic optimization of a 280 kWh battery system installed there by Consolidated Edison. This earlier battery technology project has recently been deactivated.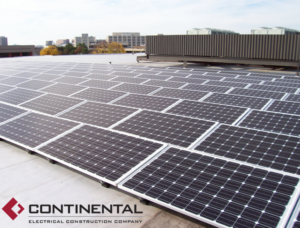 Type: Office
Size: 50 kW solar pV, 100 kW storage
Continental Electrical Construction Company (CECCO) and Intelligent Generation developed a commercial size, smart solar energy system on the rooftop at CECCO's headquarters in Oak Brook, IL. The Continental building exemplifies cutting edge conservation practices: Intelligent Solar software directs a battery and PV system to maximize energy savings and provide back-up power.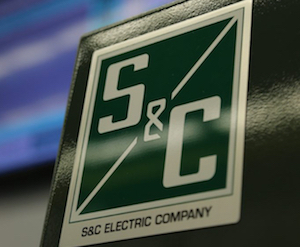 Type: Smart Grid
Size: 150 kW storage
In 2014, S&C Electric, a global provider of equipment and services for electric power systems, selected Intelligent Generation to engage its 150 kW network of distributed energy storage systems into the commercial wholesale market of PJM, by way of using IG's membership in PJM and its unique market participation POWR:Suite engine. The system was commercially operating at S&C's Chicago headquarter based smart grid demonstration center. Since then S&C Electric has exited the market for energy storage and deactivated this demonstration project.